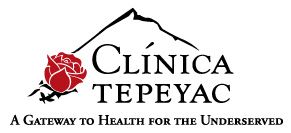 Our Mission
At Clinica Tepeyac, our mission is to inspire health, wellbeing, and humanity in our community, through all of life's stages.
Our Vision
We envision a healthy community. The people we serve understand that health care is regular and ongoing. They are healthier and their children are healthier. There are fewer people in emergency rooms receiving routine care. As we can expand our reach and bring cultural competency into the community, we are able to help more people live healthy lives. 
Our Core Values
Dignity
Clínica Tepeyac respects the inherent dignity of each person. We are sensitive, inclusive and empowering in our relationships with others. 
Integrity
Clínica Tepeyac values authenticity and consistency. We are genuine, reliable and dependable in word and deed. 
Quality
Clínica Tepeyac values excellence. We provide the best services possible on a regular basis. 
Our community is healthier because of Clínica Tepeyac. 
The History of Clínica Tepeyac
April 1993 - A community needs assessment revealed the following priorities:
Barriers to health care access - language, cost, available services, etc. 

Drug/alcohol abuse and teen pregnancy

Local residents were at greater risk for chronic diseases-  including diabetes and hypertension
1994 - Clínica Tepeyac became incorporated as a 501(c)(3) organization and the first promatora (community health worker) was hired to provide community health education. 
1995 - Clínica opened its doors and began providing healthcare services to the local community. 
1998 - Patient demand soon exceeded the physical capacity of the clinic. 
2002 - The administrative and education staff moved to rented office space to relieve overcrowding in the clinic. 
2005 - Clínica began negotiations with Denver Health and Hospitals, the City and County of Denver, and Councilwoman Judy Montero to acquire a former DHH clinic located in north Denver that had been closed since 2003. 
Clínica receives a Community Development Block Grant to purchase the building and raises capital funds for renovations and furnishings. 
December 1, 2006 - Clínica Tepeyac moved into its new clinic facility and began seeing patients. 
2009 - Clínica Tepeyac had expanded its clinical services to include the full range of preventive and primary care delivered in a family medicine model. 
2012 - Clínica implemented an electronic diabetes registry to promote continuous quality improvement in its clinical approaches.
2013 - Clínica launched an electronic health record (EHR) system and moved the administrative offices and behavioral health services to a renovated building in the nearby Elyria neighborhood. The relocation more than doubled the number of Clínica's counseling rooms, which now include space to host family and group counseling sessions.
2015 - Clínica completed a 900 square-foot expansion to increase patient capacity by 20% over the next few years.
August 2015 - Clínica achieved its Federally Qualified Health Center (FQHC) designation, accomplishing a major goal that will support Clínica's long-term sustainability.
Where We Started

The Past
3617 Kalamath - facility prior to renovation in 1993

Where We've Been

3617 Kalamath - renovated

Where We Are (Clinic)

5075 Lincoln
Clinic

Where We Are (Administrative Offices)

4725 High St
Administrative Offices